Lincoln Families,
I hope you enjoyed the beautiful weather this weekend and took the opportunity to partake in some fun seasonal festivities! It is hard to believe we are entering the final days of October! Things look to be quite busy here in the Land of Lincoln for the next few weeks.
Don't forget that Fall Parties are quickly approaching. If you haven't yet done so, please be sure to fill out the attached Google Form indicating your child's plans for Oct. 31.  Below is the schedule for the last day of October.
8:30  – AM kindergarten Character Parade (Park Ave. Playground)
8:45  – K-2nd grade Storyteller Assembly in the auditorium
9:30 – 3rd-4th grade Storyteller Assembly in the auditorium
Lunch – families opt to change into costume at school or home
12:40 – PM kindergarten/1st-4th grade Character Parade (Franklin Playground)
Afternoon – classroom parties
I look forward to seeing you all on Saturday, October 26 for the annual Pancake Breakfast and 5K. This event is always a great way to come together as a school community to celebrate. Please come out to join us for a delicious breakfast and to cheer on the Lincoln and Willard School HERO Boys as they run their culminating 5K!
Veterans Day is always one of my favorite days at Lincoln. Coming together as a school community to honor or veterans is always such a moving and inspirational day. This year our assembly will be at 9:00 on Monday, November 11. Please be sure to take the time to see the attached Veterans Day Hero form to honor a veteran in our Hall of Honor and to also let us know if you will be inviting a veteran guest to join us.
As always, thank you for your continued support of the finest school around! Please never hesitate to reach out if there is anything Mrs. Gerges or I can do to better support your family! Have a great week. CG
Quote of the week:  "If you have good thoughts, they will grow out of your face like sunbeams and you will always look lovely!  ~Roald Dahl
---
Calendar
***All Week: Heartworks Fall Food Drive***
Monday, October 21:
Lincoln News Broadcast – during lunch, Mr. Cheney's Room
Chef Du Jour – during lunch, library
Green 4 Good Kids Club – 3:15-4:15pm, Mrs. Suzuki's room
Hero Boys – 3:15 – 4:15pm, meet in reading garden
Lincoln Newspaper Crew – 3:15 – 4:15pm, STEM lab
Fall Yoga – 3:15 – 4:15pm, multi-purpose room
District 90 Board of Education meeting – 7pm, Roosevelt
Tuesday, October 22:
2nd grade field trip to Naper Settlement
Fall Tennis (grades 1/2) – 3:15 – 4:15pm, playground
Wednesday, October 23:
Waste Free Wednesday
Walking Club Wednesday
Game On Club – during lunch, STEM lab
Thursday, October 24:
Wonder Readers – 7:30am, Mrs. Mares' classroom
Coding Club – during lunch, Mrs. Mares's classroom
Fall Tennis (Grades 3/4) – 3:15 – 4:15pm, playground
Recorder Club – 3:15-4:15pm, auditorium
Friday, October 25:

Wonder Writers – 7:30am, multipurpose room
2nd grade Living History Fair
Lincoln Spirit Day – wear red!
FUN LUNCH – hamburger/grilled cheese
Volleyball Club – 3:15 – 4:15pm, gym
Saturday, October 26: Pancake Breakfast and 5-K
---
Heartworks Fall Food Drive – this week!
It's the Heartworks Annual Fall Food Drive this week – a paper grocery bag went home with your kiddo(s) this past Friday.  Please send the grocery bag back to school with non-perishable, unopened and un-expired food donations by this Friday, October 25!
All items will be donated to the Oak Park River Forest Food Pantry.
Thank you for your generosity!
---
Pan-K Run/Walk and Breakfast – this Saturday, 10/26 – register now!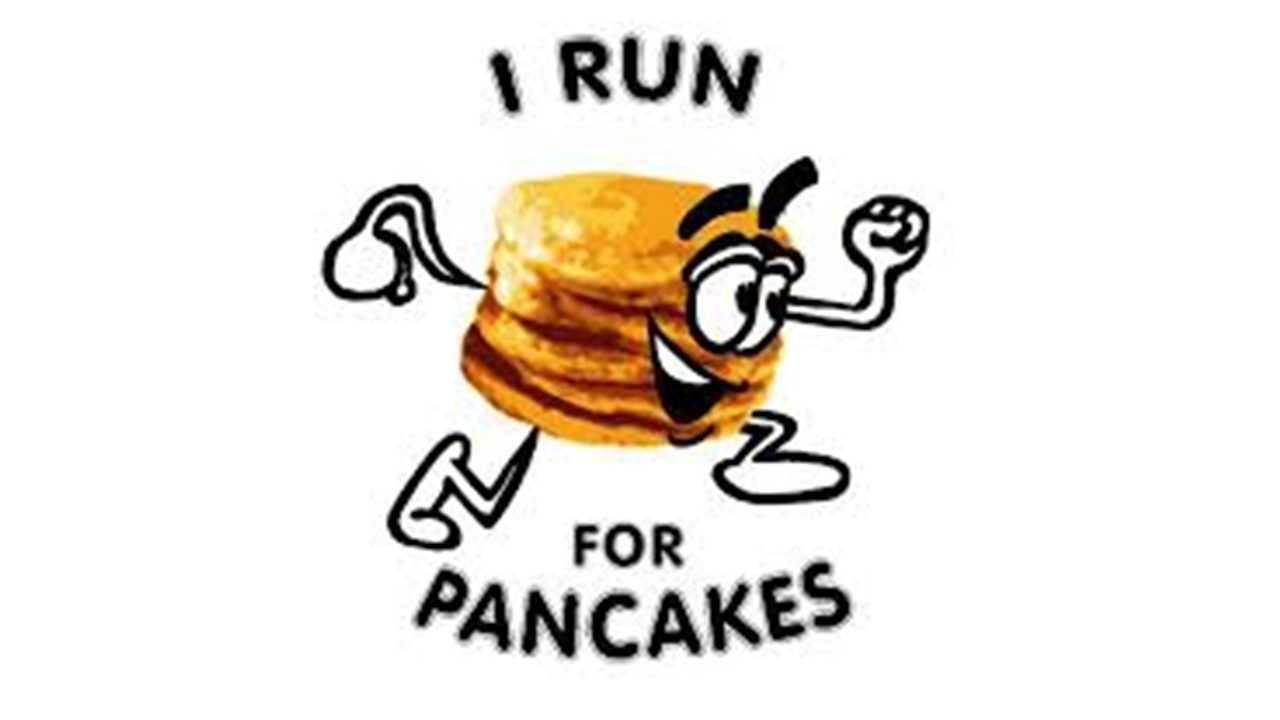 Register now for the 6th annual running of the Lincoln Pan-K 5K Run/Walk on Saturday, October 26th!  This fun-filled, family event will take place throughout the beautiful streets of River Forest. Your race registration includes a medal for finishers, refreshments along the course, and of course, a pancake breakfast at the finish line. Everyone is invited to the pancake breakfast where you'll see familiar faces, make new friends, and enjoy a great breakfast of pancakes and sausage.  Please register and buy tickets in advance on the webstore before it closes Friday Oct 25th at noon.  Same-day race registration will increase $5.  Breakfast tickets can be purchased the morning of the event for $5.
* This is a nut-free menu. Ingredient lists and labels will be provided.*
Run, walk just eat, or volunteer (please!). It's a super community event sponsored by the Lincoln Elementary PTO.
DETAILS! – Run/Walk participants report to registration desk on the Franklin Ave side of the school at 7:30am.  Kids Half K race starts at 8:00am on the Park Ave side of the school.  The 5K race starts at 8:15am on the Franklin Ave side of the school.  Breakfast served 8:00-10:30am.  Pancake eaters report to the Lincoln gymnasium.
Kids Half K: $12
Youth 5K: $15
Adults 5K: $20
Breakfast-Only: $5
The start and finish line is on Franklin at the playground. The runners will START North on Franklin and then turn East on Oak. They will head to Jackson and then turn South for 1 block until they reach Quick turning East. They will run East on Quick until they reach Bonnie Brae and turn North. They will run 1 block and return back to Oak turning West. They will then turn North on Monroe until they reach Thomas and turn West. The runners will continue on Thomas until turning South on Keystone. The course continues back to Oak where they will turn East. They will meet the home stretch when then reach Franklin and turn South to the FINISH LINE.
Questions? Contact Anthony Kramer at akramer@americandooranddock.com or Cal Davis at cdavis1052@aol.com for more information.
---
Books and Building Club – register now!
Engage and listen to fun picture books read aloud, engineer structures with blocks, Legos, Knex, magnets, and more (over 10 types of toys), build listening and reading skills, and create, imagine and have fun!
First Graders – Tuesdays at lunch/recess, October 22 – December 17
Second Graders – Thursdays at lunch/recess, October 24 – December 19
Club size is limited to 10 students per grade. Permission slip will be handed out upon enrollment.  Register through the webstore!
---
Principal Appreciation Day is Friday, 10/25!
To show our appreciation for Mr. Godfrey and Ms. Gerges, the students will have the opportunity to write notes that will be hung up in the hallway outside the office. The notes are in the shape of ice cream cones and the PTO will place them around sundaes that say, "Here's the scoop, you're a COOL principal."  The cone went home in your child's folder last week.  Please cut out cones and return to office by
Thursday, October 24th
.
---
Wednesday Walking Club – new goal!
Wednesday Walkers are off to a great start! Despite the rainouts, we have collectively walked 55 miles since the start of the school year.
This year we are hoping to collectively walk Florida by Spring Break! That's 900miles! We know this is an ambitious goal but with everyone walking, we know we can do it and there are so many great stops on our way there! First up is Indianapolis at the 200 mile mark.
Bring your siblings, kids, parents, grandparents, teachers, neighbors… ALL ARE WELCOME to start their Wednesday by walking the perimeter of the Franklin ball field. Each lap is 1/10th of a mile and the laps do add up quickly! But we need your help getting to our goal.
Join us each Wednesday on the Franklin side playground 8-8:15am!
---
Rainbows Support Group
Please see attached for more information regarding the Rainbows support program facilitated by Lincoln's school social worker.  Rainbows consists of peer-support groups for children who have experienced a significant loss. The group is open to all Lincoln students, and it gives the children an opportunity to work through their feelings and come to an increased acceptance of the life-changes they are experiencing.  Please contact Mrs. Payton at (708) 366-7340 ext. 8167 with any questions.
---
Fall Sports Camp – register next Sunday, 10/27
Looking for a way for the kids to run off some energy as the weather gets colder? Back by popular demand: fall sports camp by Legacy Sports. Kids will play games like Battleship, Dodge Ball and Keep Up the Yard, while learning sportsmanship, respect and teamwork.
$80 for 6 sessions. 3:15-4:15 Spaces limited.
Grades 1&2: Mondays after school beginning 11/4
Grades 3&4: Wednesdays after school beginning 11/6
The program is run by Legacy Sports and will take place in the gym or on the Franklin playground, weather permitting. Registration opens on the Webstore at 5pm next Sunday, 10/27.
---
Pumpkin Smash 2019 – Nov. 2
---
Gepetto's Discount Cards available now!
Geppetto's Discount Cards are now available through Nov. 18th on the Lincoln webstore! These cards pay for themselves and encourage "shopping local" during the busy holiday season. Your $10 card purchase goes directly to the Lincoln PTO and you get 20% off at Geppetto's Toy Box between November 26 and December 3rd (the card can be used multiple times within that week). Cards can be purchased online in the Lincoln webstore and will be mailed to you via USPS.
Happy Holiday Shopping!!!!
---
Hambingo coming soon – 11/12!
A night out in Oak Park FUNdraiser!!  Grab your partner or round up your friends & join us on Tuesday, November 12th at 8pm (to approx 10pm) for a fun filled evening of bingo at Hamburger Mary's with ALL game proceeds benefitting the Lincoln Elementary PTO.
This is a really fun night out if you've never done it and a great fundraiser for the school!  Fabulous prizes, full menu, open (cash) bar and lots of Bingo!!  See the attached flyer for more information.
NEW THIS YEAR!!  A chance to win these exclusive "experiences" for your favorite kid(s):
Free Recess with Mr. Godfrey and GaGa Ball for the entire class
Morning Announcements with the student and a friend
Lunch with three friends and Mr. Godfrey
Lunch with three friends and Ms. Gerges
---
Book Fair is coming…volunteers needed!
The book fair will be in the Lincoln Library Monday, 11/4 through Thursday, 11/7.
Please consider donating a few hours of your time to this important PTO fundraiser. All of the money raised at the Book Fair goes back to the library to expand the book collection and to bring authors and illustrators to the school to talk to our students. We need help with set up, sales, Family Night, and take down. You can see the full schedule of opportunities on Sign Up Genius. Do your shopping while volunteering during school hours! Younger siblings are welcome to tag along while you volunteer.
Questions? Contact Anne Powers akpowers5@gmail.com or Sarah Donoho donohosarah@gmail.com.
---
Lincoln Auction: seeking volunteers and auction items!
The annual Lincoln Auction is Friday, March 13, and it's never too early to start planning for our school's flagship event. This year's event will be bigger than ever and we need your help.
Want to join the planning committee? Have an auction item to donate through your company? Have creative ideas for the event itself? If so, sign up to volunteeer on Sign Up Genius or contact Stephanie Kang (stephanie.kendall@gmail.com) and Lauren Perlstein (lauren_perlstein@hcsc.net). We appreciate all your help and ideas!