FUN LUNCH for Friday, Oct. 18th is subs from Alpine, 7538 W North Ave, Elmwood Park, IL 60707. Thank you to Alpine and our wonderful Fun Lunch volunteers!
FAMILY MATH NIGHT is TONIGHT, Thursday,  October 17th  at 6:30PM.
Join your friends in the gymnasium for this popular event! Get ready for a fun night with hands-on math, games, and fun ideas to take away and use at home.  Admission is free. 
CONGRATULATIONS TO THIS YEAR'S PTO RAFFLE WINNERS!
Leader of the Halloween Parade – Scelfo Family
4 Pancake Breakfast Tickets – Kaackstedt Family
$20 Book Fair Gift Certificate – Kohn Family
50/50 Split the Pot – Khoubaeva-Hummel Family
Front Row Seats to Kindergarden Valentine's Day Performance – Hasenbalg Family
Front Row Seats to 1st Grade Winter Concert – Schneide Family
Front Row Seats to 2nd Winter Concert – Powell Family
Front Row Seats to 3rd Winter Concert – Freedman Family
Front Row Seats to 4th Winter Concert – Snyder Family
Hot Chocolate for the Class – Pattie Family
Pizza Party for the Class – Madden Family
Principal for a Day – Khoubaeva-Hummel Family
PANCAKE BREAKFAST–BUY YOUR TICKETS NOW!
Please join us for a Lincoln PTO fundraising tradition, our Pancake Breakfast on Saturday,  October 26th, 8:00 to 11:00am.  Advance Tickets are just $3.50 per person and include pancakes, sausage, fruit, juice and coffee.  Buying tickets in advance helps us order the right amount of food, and it saves you money–tickets at the door are $4.00.  Click here to order tickets.  Thank you!
The new Girl Scouts Daisy Troop for Kindergarteners is hosting a parent meeting to hand out uniforms on 
Thursday, 10/24
 from 
6:30-7:30PM
 in the Gymnasium. It's not too late to join! Please contact Lurana: "luranajbrown AT yahoo.com".
MARK YOUR CALENDARS: 
Thursday,  10/31     Costume Parade  &  11:25am  Dismissal
 WASTE-FREE WEDNESDAYS–the lunch challenge continues through April 2014!  The Green4Good Committee will give out hand stamps to all kids who bring a waste-free lunch. This will be an on-going event each Wednesday up until our BIG Waste-Free Lunch Challenge during Earth Week. For tips on packing a waste-free lunch go to the District 90 website and click on the "Zero-Waste Lunch Tips" flyer.
Would you like an opportunity to volunteer for one hour and see your child during a regular school day?  We need parent volunteers to come in on Wednesdays during the lunch hour (11:25-12:25) to give hand stamps to students who have packed a lunch that creates no trash.
Don't know much about packing a zero-waste lunch?  Don't worry.  We'll give you a brief training so you'll be an expert! Please Click here to sign up. Lincoln School and the Earth appreciate it!  Thank you.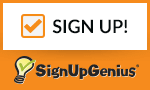 The PTO runs on volunteers—can you help?
We need volunteers for Waste-Free Wednesdays and the Pancake Breakfast.  Find the event right for you on Sign Up Genius.   Thank you!
DO YOU WANT TO ANNOUNCE YOUR EVENT? 
Please submit requests to "lincolnPTOcommunications AT gmail.com" by midnight on Tuesday for the weekly Thursday newsletter.